Thursday April 7th 2022
We will be having a mixed (virtual and in person) training night this thursday, April 7th 2022. Please read below carefully.
Level 1: From 18:30-21:30 
In-person training at Manotick Legion, Branch 314, 5550 Ann St, Manotick, Ontario, K4M 1A3. Parking is limited, street parking is available. We encourage a drop off/pick up. No parents or visitors are permited inside at this time. Training will take place in the basement hall. Report to the back door located at the northwest corner at the rear of the building adjacent to the parking lot. 
Dress: Cadets C-5 (Green Field Training Uniform) or for those who do not have a uniform Black dress pants and white shirt (or as close as you can)
If you have not been measured for a uniform, please talk to staff on thursday night to find out where you can get measured. 
Levels 2-3-4: From 18:30-20:05
Virtual on MS Teams 
Until further notice, masks are mandatory for any in person training event. In order to keep our cadets and community safe, all staff, cadets and anyone accessing our facilities for our program will be asked to wear a mask for the night. We thank everyone in advance for their understanding while we start to welcome our cadets back.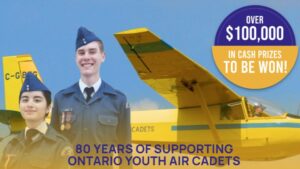 Lotto Cadet Fundraiser
This year's @ACLOPC lottery has $100,900.00 in cash prizes to be won, including an early bird prize of $4,500 and a grand prize of $58,000. The early bird draw is April 1st and the grand prize draw is April 29th. Tickets are only $10!
Please consider sharing this with your friends and family and help support our 75 Air Cadets Squadron!
Contacting the squadron
If you have any questions about something you've read in our announcements, or about anything regarding the squadron and your cadets' participation with us, we ask that you do not reply to the announcements but that you instead send us an email at [email protected] and someone will be in contact with you as soon as we can. 
Band
75 & 742 Band Programs are back virtual!
Are you interested to perform in one of our national award-winning ensembles?
Check our Brass & Reed info sheet to learn more about our Marching and concert Band!
Check our Pipes & Drums info sheet to learn more about our "Scottish" heritage ensemble!
Check our Highland Dancing info sheet to learn more about our newest addition to the Band Programs!
Questions? Major Jean-François Lambert, 75 & 742 Band Programs, [email protected]
Squadron kit shop NOW OPEN ONLINE!!
You can find bags, toques, polos, hoodies, jackets and pants, right here in our squadron kit shop! Come take a look, order online, and find all of the squadron swag you've always wanted! 
Do you know who your level officer is?
Don't forget to join your classroom every week for mandatory training. If you're having difficulty joining your classroom or have questions, you can get in touch with your level officer: 
We are going to keep you updated as we learn more information for our in-person return to operations, however we will be virtual until further notice. We have begun providing weekly attendance credit to all cadets who attend. This counts towards our merit list for promotions, summer training, awards and rewards. Note that only cadets who are registered members are able to attend training offered, including virtual training.
REGISTRATION FOR NEW YOUTH MEMBERS:
If you know any 12-15 year old youth interested to join 75 Squadron, our registration process is open all year long.
How to register:
1. Parents/guardians use this link to register on any device, by choosing 75 Barrhaven Royal Canadian Air Cadet Squadron;
2. Submitted forms will be received by Squadron staff, who will verify the information, and contact parents/guardians for proof of Canadian Citizenship and to present their health care cards.*
3. Once registered, an email will be sent with instructions on how the new cadet will be assigned to a group, and introduced to their supervising adult – a Level Officer, who will be their primary point of contact.
*To all the parents/guardians of interested cadets – we have had an unfortunate delay to our ability to process applications as this newly updated process is often blocked at the second step – we are unable to process registrations without having a photocopy of your health card and accepted proof of identification. Given that our physical venue isn't accessible yet, there is one option available:
1. Drop them in an envelope marked "Attn: 75 Air Cadets – P.O. Box 34038" off at Shoppers Drug Mart's Post Office, 3781 Strandherd by Home Depot
In addition, the following resources are available:
Online Registration Tool for Cadets – this page has information for parents that can support parents through the process for successful completion of the registration.
Online Registration FAQs for Parents – This page will grow as we receive more feedback from user's experiences.
Cadets365
As many of you may have heard, cadets will be migrating to Cadets365! As such, Teams will be our main platform for this training year. However, the region is still working on the onboarding of cadets to Cadets365. Cadets who are already set up with Teams are encouraged to use this as their primary email for the program. If you're not set-up yet, don't worry, until more cadets get onboarded to CDT365, we will continue to use Google Classroom, so keep an eye out for communications from your Level Officer, and we will keep you posted on your onboarding